Georgian Language Integrated Course is intended for all students of any age and level. It covers the situations, vocabulary and grammar required to take students up to B2 level and it also covers some of the additional structures required at a more advanced level. The Course comprises dialogues and short texts with comprehensive explanation of new vocabulary and further mastering of this vocabulary before moving on.
Communicative and situation-based exercises, which give practice in using and understanding the new vocabulary, help students learn how to deal with particular situations in Georgian.
The Course also has plenty of material for oral work. It includes 'Georgian realia', which are documents drawn from Georgian daily life.
The Course pays particular attention to its grammar section. Explanations are strictly related to the material of a single lesson and are, therefore, not exhaustive. The explanation of each new point of grammar is followed by appropriate and diverting exercises.
The Course has improvisation, or role-play, exercises. This gives students the opportunity to use the new vocabulary and structures learnt during the lesson to communicate in real-life situations.
Finally, the course has plenty of authentic video material in Georgian which includes cartoons, documentaries on Georgian history and culture and films.
Standard of competence in Georgian as a foreign language
Six-level system of language proficiency:
A (A1-A2) elementary language
proficiency; B (B1-B2) Independent language proficiency; C (C1-C2) mastery of the language.


A1- Language Key (breakthrough level)
The lowest level of language proficiency, within which a student has the elementary ability to read, listen and write. He/she can also take part in very simple conversations.

A2- Language Basics (waystage level)
This is the level of language proficiency at which a student is able to participate more actively in a conversation, although he/she still has poor knowledge of expression forms and needs the collocutor's help. At this level, the student develops the ability to conduct a monologue and talk on everyday routine topics.

This level is characterized by two distinctive features. In particular, a student can hold a dialogue in a number of different situations; overcome the problems of everyday life, as he/she develops the ability to exchange information of different volumes. The threshold level is mainly designed for short-term visitors to a foreign country.

B2- Vantage Level (advanced threshold level)
At this level, a student is able to readily establish communication; conduct a natural, unstrained conversation; thoroughly understand everything that is spoken to him/her in a literary language, even if noise bothers him/her. At this level of language proficiency, the student can correct mistakes that cause misunderstandings; he/she develops skills in conducting reasoned discussions and practical conversations.

C1- Professional Level (effective operational proficiency)
At this level, a student possesses a wide range of language tools and is able to conduct a free, coherent talk.

This level reveals a very high degree of accuracy and unconstrained use of linguistic means, although it still cannot equal the competence of the perfect level of language proficiency inherent in a native speaker.

Georgian Alphabet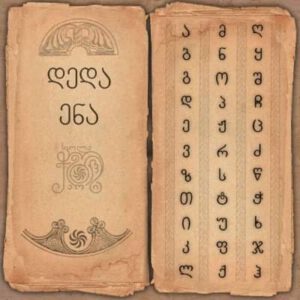 Georgian alphabet is amongst the most advanced ones worldwide against the background of the oldest original alphabets. There are 33 letters in the modern Georgian – 5 vowels and 28 consonants. Each phoneme has its own corresponding grapheme. Unlike many other languages, there are no capital letters in Georgian alphabet, although the ancient Georgian script used capital letters. Later, these letters were applied only at the beginning of paragraphs as a miniature text decor.
In the course of development, Georgian writing changed its appearance three times, and, therefore, there are three types of letter outlines: Asomtavruli, Nuskhuri and Mkhedruli. The Nushkhuri writing is a result of development of Asomtavruli, while Mhedruli is a result of development of Nuskhuri. There were 38 letters in the ancient Georgian alphabet; in the XIX century, five graphemes that were no longer used in live speech were removed from the alphabet.
April 14 is Georgian Language Day!